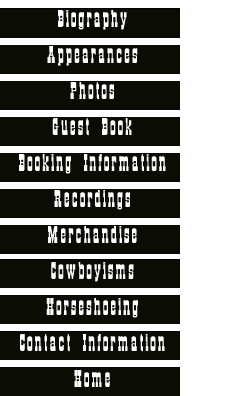 Monte Mills and The Lucky Horseshoe Band biography/history:
Year 2009 marks thirty three successful and fun-filled years for Monte Mills and his Lucky Horseshoe band. Monte and his musicians play about a fifty "gigs" a year, ranging from Barn Dances, Weddings, Bar-B-Qs, election campaigns, jail dedications, birthday parties to full-blown concerts. The group is known as a country band and they do play mostly country music, but they can just as easily slip into 50s and 60s oldies rock and roll, 1940's big band or Gospel. Monte personally loves to play and sing those old Bob Wills and The Texas Playboys western swing tunes. The band's repertoire is mostly pre Garth Brooks. Instead of performing the new songs heard on the radio, Monte has chosen to feature the songs that have become classics. Songs like "Your Cheatin' Heart", "Jambalaya", "Workin' Man Blues", "Crazy", "Silver Wings", etc. will be with us always. The same can be said for the old Rock standards like "Johnny Be Good".
Monte's years of experience have taught him what to play and when. Sometimes timing still is everything. The band doesn't play from a predetermined list, instead they are very sensitive to the situation and play what is appropriate at the moment. This kind of judgment can make or break an event and Monte and his band want to make each performance the best it can be for their audience. They like to see just how much energy they can get back from a crowd. It is really important to them that people have a good time.